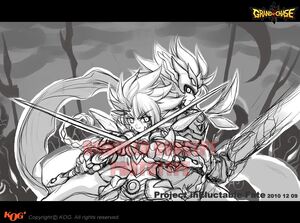 Edna adalah seorang demon dari kaum Asmodian seperti Dio, Ley, dan Duel. Dia adalah teman Duel dan kemungkinan juga kekasihnya. Edna adalah orang yang menyelamatkan Duel dari kematiannya saat demon wars dengan mengorbankan nyawanya sendiri.
Dikatakan bahwa Duel mencari cara untuk menghidupkan kembali Edna. Disebutkan juga kalau Ley adalah reinkarnasi dari Edna. Kemiripan mereka bisa dilihat dari penampilannya, keduanya memiliki warna mata yang sama, rambut, baju dan tanduk di posisi yang sama. Tanda di dada Edna juga ada di punggung Ley.
Menurut blog Naver, saat Ley sedang menderita penyakit, ayahnya pergi mencari Oz, satu-satunya orang yang bisa menyembuhkan Ley. Oz melakukan ritual yang mengambil jiwa Edna saat jiwa tersebut melewati Underworld.
Ad blocker interference detected!
Wikia is a free-to-use site that makes money from advertising. We have a modified experience for viewers using ad blockers

Wikia is not accessible if you've made further modifications. Remove the custom ad blocker rule(s) and the page will load as expected.