Practice Mode adalah tempat dimana kita bisa mencoba memakai karakter yang kita inginkan dengan job dan skill yang kita atur sendiri melalui menu. Kita juga dapat berlatih dengam melihat petunjuk combo yang berada di kotak bagian kanan. 
Info Utama
Edit
Di Training Mode, player bisa melawan karakter lain (yang merupakan NPC) yang tidak bisa bergerak, semua karakter di Practice Mode memiliki tingkat regenerasi HP dan MP yang sangat tinggi. Status karakter di Training Mode adalah 100/100/100 (Attack/Defense/Vitality)
Semua karakter bisa dipilih dan dimainkan, selain itu semua tempat PvP bisa dimainkan di Practice Mode kecuali Temple of Fire dan Christmas Babel.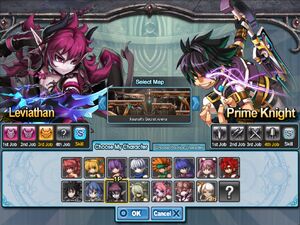 Ad blocker interference detected!
Wikia is a free-to-use site that makes money from advertising. We have a modified experience for viewers using ad blockers

Wikia is not accessible if you've made further modifications. Remove the custom ad blocker rule(s) and the page will load as expected.